When you want medal accessories and more, this is the place to find them. We offer custom v-neck ribbons, sport lanyards & engraved accessories at Mission Awards. We also have standard ribbons, drape ribbons and sports ribbons… and flex cords, key chains, key rings, and ball chain necklaces. How about presentation boxes, velvet pouches, laser labels and engraving options, too? At Mission Awards, we have so many great accessories! Note: all ribbons are available in multiple or solid color designs– just ask for the specific color(s) you want.
Here you will find products that add that special touch to your medals.
*All Ribbons Are available in solid and multiple color schemes.
Ask our sales team for specific colors.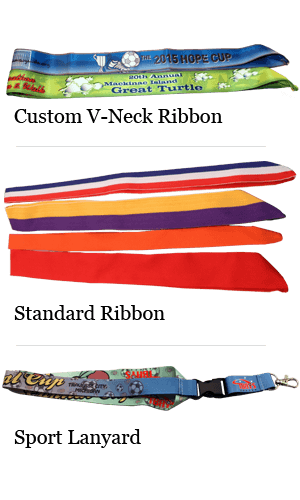 Products Available:
Custom V-Neck Ribbons
Standard Ribbons
Drape Ribbons
Sports Ribbons
Sports Lanyards
Flex Cords
Figure 8 Key chain
Split Key Ring
Split Key Ring with link Chain
Ball Chain Necklaces
Presentation Boxes
Velvet pouches
Laser Labels
Engraving